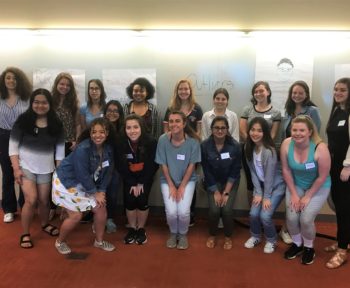 WiSE provides various programs for women in STEM to boost professional development. One of these is WiSE's Undergraduate Summer Research program, which annually invites female undergraduate students to apply for and conduct funded research in Syracuse University faculty labs during the summer.
In 2019, there were 17 WiSE summer scholars who engaged in a number of activities, including working directly with a faculty mentor to develop and implement their research project, participating in several professional development activities organized by WiSE, and presenting their research findings during undergraduate research symposiums at the end of the program in August.
The scholars' research represented a diverse range of topics, including: correlation of longevity and fecundity in drosophila, linguistic analysis of geotechnical faculty perspectives on effective collaboration and networking, the role of insulin signaling in primordial follicle formation and development in the mouse ovary, and remediation of acid rain with calcium treatment.
Kenzie Swanson, a WiSE summer scholar, took 2nd place for her research at the 2019 engineering symposium's poster presentation in the General Sciences category. Her research project dealt with reducing the side effects of nausea and hypophagia in patients with Type 2 diabetes.
"This program has contributed to my professional development by helping me gain experience in a professional laboratory setting, which is incredibly useful as I am an aspiring physician scientist," said Kenzie. "From this summer research experience, I learned much about synthesizing different compounds, different techniques in the lab, and how to use certain instruments."
In addition to the hands-on learning experience of working in labs, program participants also found value in learning and applying research techniques, data analysis, poster development, and presentation and networking skills.
"My favorite part of the program was engaging with my peers through WiSE and sharing our similar experiences of being women in STEM or sharing progress on our individual projects," said Simran Vinod Mirchandani, another 2019 WiSE summer scholar. "It was inspiring to hear my peers speak passionately about a wide array of research projects all taking place on campus."
WiSE was founded in 1999 to support the recruitment, persistence, and advancement of women in STEM. For more information about WiSE programs and opportunities, please visit our Home page.