We help women in STEM reach their full potential
For more than 20 years, Syracuse University's Women in Science and Engineering (WiSE) has proudly supported the recruitment, persistence, and advancement of women in STEM (science, technology, engineering, and mathematics).
Led by women faculty and professional staff, WiSE serves a total of 19 STEM departments at the University. Our diverse programming and events offer women in STEM a wide variety of networking and learning opportunities, as well as support, encouragement, and inspiration. Through research-based strategies and an active community of mentors and peers, we help women students and faculty achieve their professional goals.
In our mission to build a strong, equitable, and inclusive community, we welcome all self-identified women and non-gender conforming individuals, including cisgender, transgender, and queer women, as well as non-binary individuals.
WiSE News
SLEPECKY RESEARCH PRIZE
For the Norma Slepecky Undergraduate Research Prize submission guidelines, please see this page. The deadline to apply is March 12.
PROGRAMMING
Please see our Events page for all upcoming programming!
We have great events lined up for WiSE Women of Color in STEM (WWoCS) this spring:
Thursday, January 28, 12-1 PM – Writing an Effective Personal Statement & Other Application Tips (for REU, Fellowships, Graduate School, etc.) (register)
Tuesday, February 9, 6-7 PM – Networking Fun & Practice with Peers
Wednesday, February 17, 5:45-7 PM – Getting the Mentoring You Need to Succeed
Wednesday, March 10, 5:45-7 PM – Crafting Your Career Plan
Monday, April 12, 5:45-7 PM – Women Untold Film Screening & Discussion
Screenshot below from our WWoCS program with Dr. Charisse L'Pree on October 8!

OTHER NEWS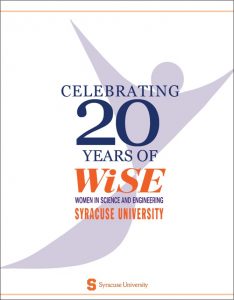 WiSE 2020 Summary
Despite the year's challenges, WiSE continued to provide (and expand!) programming and support for women in STEM.
A&S Researchers Awarded $2.1M Grant to Study Causes of Congenital Heart Defects
Congrats to Dr. Lisa Manning, Dr. Heidi Hehnly, and Postdoc Dr. Paula Sanematsu!
On a Quest for Knowledge
Catherine Campbell, a WWoCS-CPP Associate, was featured in Syracuse Stories.
Former WiSE-FPP Associates Win 2020 Research Day Awards
Electrical Engineering and Computer Science Professors Receive Technological Innovation Awards
Dr. Qinru Qiu was recognized for her pioneering contributions in stochastic power management and brain-inspired architectures to achieve energy efficient computing.
Dr. Christa Kelleher Wins Syracuse University's First Francis A. Kohout Award for Outstanding Achievement
WiSE Launches Pilot Career Preparation Program
Celebrating 20 Years of WiSE
Morgan Foss, WiSE Intern and graduate student at the Newhouse School of Public Communications, researched and designed this booklet on the history and accomplishments of WiSE.
For students! Check out our WiSE Video for the Virtual Cultural Centers Welcome Fair (offsite).
WiSE Statement on Immigration and Customs Guidelines
WiSE Finishes 2019-2020 Strong
View more WiSE news >>