We help women in STEM reach their full potential
For more than 20 years, Syracuse University's Women in Science and Engineering (WiSE) has proudly supported the recruitment, persistence, and advancement of women in STEM (science, technology, engineering, and mathematics).
WiSE Updates
PROGRAMMING
Please see our Events page for all upcoming programming!
RESOURCE LISTS
WiSE has compiled the following lists of helpful resources available at the University.
Other News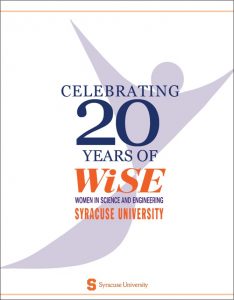 Visualizing Science
Slepecky Lecturer Dr. Ahna Skop '94 was featured in Syracuse Stories.
Dr. Shobha Bhatia Receives 2021 Judith Greenberg Seinfeld Scholar Award
Congrats to Dr. Bhatia, WiSE Faculty Co-Director!
ITS Behind the Monitor Podcast: WiSE Program Director Sharon Alestal‪o
Learn more about WiSE, our mission, and programming through this podcast with Sharon Alestalo.
Celebrating 20 Years of Women in Science and Engineering
Morgan Foss, WiSE Intern and graduate student at the Newhouse School of Public Communications, researched and designed this booklet on the history and accomplishments of WiSE.
WiSE 2020 Summary
Despite the year's challenges, WiSE continued to provide (and expand!) programming and support for women in STEM.
7 Women Scientists Who Defied the Odds and Changed Science Forever
Dr. Christa Kelleher was quoted in this Newsweek article.
Seed Grants of Change: Building Thriving Networks among Female Geotechnical Faculty Members
WiSE Faculty Co-Director Dr. Shobha Bhatia and WiSE-FPP Advisor Dr. Sucheta Soundarajan published this article in the Journal of Civil Engineering Education.
Women in Science Day Spotlight: Christa Kelleher
A&S Researchers Awarded $2.1M Grant to Study Causes of Congenital Heart Defects
Congrats to Dr. Lisa Manning, Dr. Heidi Hehnly, and Postdoc Dr. Paula Sanematsu!
On a Quest for Knowledge
Catherine Campbell, a WWoCS-CPP Associate, was featured in Syracuse Stories.