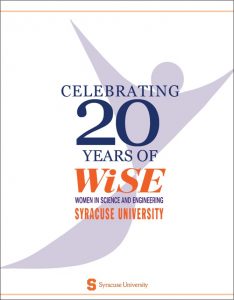 In 1996, women faculty in the Senate began to notice the under-representation of women in STEM. Women made up only 9% of the science faculty in the College of Arts and Sciences, and 6% of the faculty in the College of Engineering and Computer Science.
Dr. Cathryn Newton, Earth Sciences Chair at the time, along with Diane Murphy and Priti Ramamurthy, Directors of Women's Studies, submitted a proposal for a Women in Science and Engineering (WiSE) program at Syracuse University. Although the proposal was not funded, they continued to work on the project.
Then in late 1997, the Senate Committee on Women's Concerns recognized the scarcity of women faculty in the science, mathematics, and engineering disciplines. Deans Bogucz and Jensen appointed Drs. Cathryn Newton and Shobha Bhatia, Professor of Civil & Environmental Engineering, as co-facilitators of the early WiSE project. During the next year, the two women researched similar programs at other universities and met with several woman faculty members. Out of their assessment work and advocacy, WiSE was founded in 1999 with three key goals:
Increase representation and retention.
Highlight women scholars through a lecture series.
Develop advising/mentoring programs.
For more than 20 years, WiSE has proudly served the women students and faculty in STEM at Syracuse University. The program has grown and evolved to meet participant needs, yet remains a strong, interdisciplinary organization led and driven by faculty.
In 2020, Morgan Foss, WiSE Intern and graduate student at the Newhouse School of Public Communications, researched and designed the above booklet (see cover image) detailing the history and accomplishments of WiSE. View Celebrating 20 Years of WiSE (3,064 kb PDF).
"Because there is a lack of women at all levels of education and careers in engineering and sciences, there is inherently a lack of women role models for junior women members of the STEM community. Without support and guidance from other women, both at junior and senior levels, many women may find engineering and sciences to be inhospitable disciplines. It is important that women include in their career plan opportunities to reach back to the next generation of women engineers and scientists."  -Dr. Bhatia