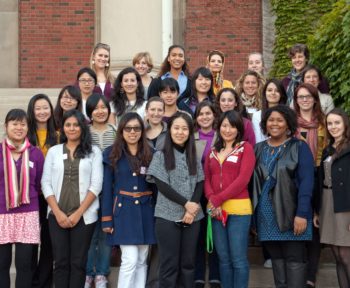 Started in 2007, the WiSE Future Professionals Program (WiSE-FPP) is a two-year professional development and support program for women in STEM at the graduate level. The program is designed to be collaborative, interdisciplinary, and self-directed, with participants (WiSE-FPP Associates) taking a proactive role in designing terms for their own academic and professional success. 
Program Goals:
WiSE-FPP facilitates master's and doctoral student career development, planning, and preparation, and addresses career resilience, productivity, and key strategies of successful, professional women.
Objectives:
Provide mentoring and networking opportunities by connecting WiSE-FPP Associates with women faculty, guest lecturers, industry professionals, and peers across STEM disciplines.
Facilitate professional development and support through workshops, panel discussions, and presentations on topics related to career development (for example, strategies for navigating graduate studies, preparing a professional portfolio, and negotiating skills).
Foster clear and accessible science communication through programming and support designed to improve writing and presenting skills and confidence.
Inform and equip WiSE-FPP Associates regarding the variety of challenges specific to women in STEM (for example, work/life balance and gender bias).
Participants:
Faculty nominate prospective WiSE-FPP Associates at the beginning of their second year of their academic program or in the fall of any year afterwards. Faculty may also nominate master's students who are likely to matriculate to the Ph.D. Faculty letters of recommendation should address the caliber of the student's research and coursework, suitability for the program, and ability to attend events (totaling five program credits) over the course of the academic year.
Application:
WiSE-FPP Associates must be nominated by their faculty advisor or another mentor. Calls for nominations are issued to faculty each year before the beginning of the fall semester.
Click here to view the 2023-2024 WiSE-FPP Call for Nominations flyer (PDF). Nominations are due September 1, 2023.
Interested in learning more? Please contact us.