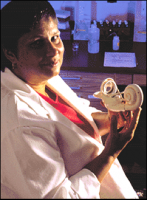 Norma Slepecky
Lectureship and Undergraduate Research Prize
With her enthusiastic approval, this Lectureship and Undergraduate Prize has been endowed by her family, friends, and colleagues to honor Syracuse University professor Norma Slepecky, who died in 2001. Dr. Slepecky was a distinguished auditory neuroanatomist and member of the Institute for Sensory Research.
Dr. Slepecky was a passionate researcher and an advocate for undergraduate student research. She frequently mentored undergraduate students seeking research experience. She also strongly supported efforts to increase the number of women in science and engineering.
In addition, Dr. Slepecky hoped that her legacy, with the support of the endowment, would continue to encourage young women to conduct research. WiSE was appointed as the stewards for this Lectureship and Prize. WiSE is honored to annually coordinate the undergraduate award and lecture by a noted woman scholar and the celebration luncheon in Dr. Slepecky's memory.