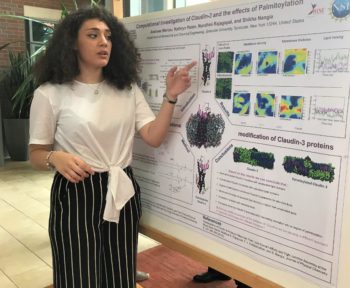 Since 1999, Syracuse University's Women in Science and Engineering (WiSE) has proudly supported the recruitment, persistence, and advancement of women in STEM (science, technology, engineering, and mathematics).
Led by women faculty and professional staff, WiSE serves a total of 19 STEM departments at the University. Our diverse programming and events offer women in STEM a wide variety of networking and learning opportunities, as well as support, encouragement, and inspiration. Through research-based strategies and an active community of mentors and peers, we help women students, postdoctoral fellows, and faculty achieve their professional goals.
In our mission to build a strong, equitable, and inclusive community, we welcome all self-identified women and non-gender conforming individuals, including cisgender, transgender, and queer women, as well as non-binary individuals.
Mission
WiSE programs support the persistence and excellence of women in STEM by capitalizing on their unique strengths, maximizing opportunities to connect, and addressing challenges experienced by women undergraduates, graduates, postdoctoral fellows, and faculty.
Faculty initiative and involvement make WiSE one of the most successful programs for women at Syracuse University.
Goals
Build a strong community and network for women in STEM.
Energize resiliency by helping to develop strategies that address challenges and bridge differences.
Accelerate excellence by providing leadership and fostering professional skills, self-management, and work-life balance.
Motivate persistence towards degree completion, career launch, and career advancement.
Stand up for equity and inclusion both interpersonally and across campus.
Departments Served
Architecture
Biology
Biomedical & Chemical Engineering
Chemistry
Civil & Environmental Engineering
Communication Sciences & Disorders
Earth & Environmental Sciences
Electrical Engineering & Computer Science
Exercise Science
Forensic Sciences
Information Studies
Mathematics
Mathematics Education
Mechanical & Aerospace Engineering
Nutrition Science
Physics
Psychology
Public Health
Science Teaching