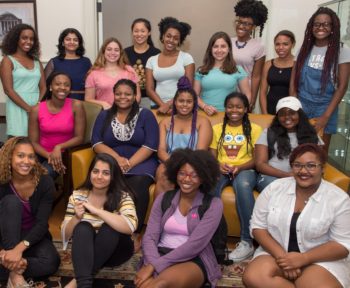 First offered in 2014, WiSE Women of Color in STEM (WWoCS) brings women students of color together with graduate mentors and faculty, fostering community and a sense of belonging. Program events are held generally once per month during the spring and fall semesters (see our calendar).
WWoCS is intended for students in STEM who self-identify as a woman and a person of color. Both undergraduate and graduate students are welcome!
Program Goals:
We exist to empower women of color in STEM by building community, fostering a sense of belonging, and promoting academic, professional, and interpersonal excellence.
Objectives:
Increase sense of belonging in STEM and identity as a scientist, researcher, and engineer.
Build a community of women of color in STEM that provides opportunities for mutual support and to give back to their cultural communities.
Increase knowledge of resources, information, and connections with faculty and others to support persistence towards postgraduate education or a career in STEM.
Increase career planning knowledge and skills including pursuit of research opportunities and postgraduate education.
Increase professional and academic knowledge and skills (general not subject-specific) that support persistence and excellence, as well as tools for addressing and overcoming the challenges generated by implicit bias.
Career Preparation Program:
The Career Preparation Program is a certificate sub-program of WWoCS, and open to sophomores and juniors. Called WWoCS-CPP, the initiative was successfully started in 2020, and will be offered for a third year in 2022-2023! See this Syracuse University News article about the program's launch.
Click here to view the 2022-2023 WWoCS-CPP Call for Nominations flyer (PDF). Nominations are due September 1, 2022.
Interested in learning more? Please contact us.