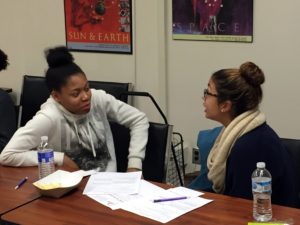 Program Goals for WiSE Women of Color in STEM (WWoCS):

We exist to empower women of color in STEM by building community, fostering a sense of belonging, and promoting academic, professional, and interpersonal excellence.
Objectives:
Increase sense of belonging in STEM and identity as a scientist, researcher and engineer.
Build a community of women of color in STEM that provides opportunities for mutual support and to give back to their cultural communites.
Increase knowledge of resources, information and connections with faculty and others to support persistence towards postgraduate education or a career in STEM.
Increase career planning knowledge and skills including pursuit of research opportunities and postgraduate education.
Increase professional and academic knowledge and skills (general not subject specific) that support persistence and excellence, as well as tools for addressing and overcoming the challenges generated by implicit bias.
Participants:
Students self-select to participate in the program and to define themselves as a person of color.  WiSE served 16 different STEM departments across the Colleges of Arts & Sciences and Engineering and Computer Science, as well as the Schools of Education and Information Studies.  In year one we served 35 undergraduates, most of whom were sophomores and juniors. 8 graduate students (Masters and Doctoral) served as mentors.  In the second year, 26 undergraduates and 5 graduates returned to the program. 5 completed their degree. We added 28 new undergraduates in 2015-2016 serving a total of 53 different undergraduate women of color in STEM.
Quotes:
"I love how this program brings us all together to get a chance to build a community of support. It's hard to find women of color in STEM so to have a space where all of them can be in the same space at the same time is great! Thank you!"
"Attending these sessions motivate me & inspire me to encourage & influence other women in STEM."
WWoCS is an "amazing opportunity to meet other women in STEM. It is really motivating and inspires me to excel so as to encourage other women aspiring to excel in STEM. I liked that the graduates spoke to us and were a visual representation of what happens when you work hard. They were impressive."