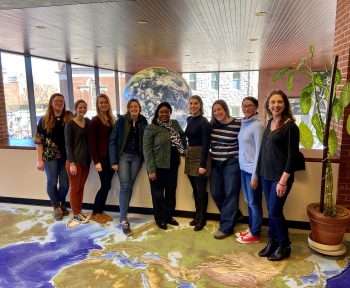 During the 2019-2020 academic year, WiSE had the opportunity to co-sponsor women scholars in the Department of Earth Sciences K.D. Nelson Lecture Series. WiSE funding assisted the department in fostering inclusion and diversity in speakers. The lecture series included eight women speakers in diverse career stages, including a balance of junior, midcareer, and senior faculty.
The series speakers included: Donna Shillington, Lamont Doherty Earth Observatory; Iwona Klonowska, Syracuse University; Jessica Creveling, Oregon State University; Tamara Carley, Lafayette College; Rowan Martindale, University of Texas; Molly Patterson, SUNY Binghamton; Estella Atekwana, University of Delaware (pictured center with participants); and Elizabeth Thomas, University at Buffalo.
These scholars presented on topics ranging from geophysical and stratigraphic problems related to sea level and climate change to hydrocarbons and rift basin tectonics. To view the full list of K.D. Nelson Lecture Series speakers and topics, visit the K.D. Nelson Lecture Series page.