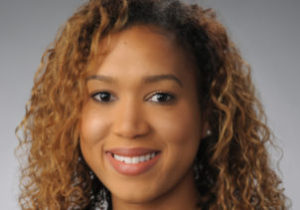 Ariel Ash-Shakoor, (Ph.D. Candidate, Bioengineering), a WiSE-FPP Associate and WiSE Women of Color Graduate Mentor, received Syracuse University's Orange Circle Award on March 23rd as part of Syracuse University's 2017 Philanthropy Week emphasis.
The Orange Circle award honors individuals and groups affiliated with Syracuse University who represent "the best qualities of Orange spirit – the willingness to work hard, a concern for others, and a desire to change the lives of others for the better."
WiSE nominated Ms. Ash-Shakoor for this award in recognition of her role as both a founding graduate mentor of the WiSE Women of Color in STEM program and as founder of the Northeast Community Center (SNCC) STEM Tutoring Program, which grew out of Ariel's volunteer outreach in area schools and an invitation from the director of SNCC to offer similar STEM-based activities to students after school. Congratulations Ariel on this well-deserved award.