WiSE Women of Color in STEM hosted guest speaker Danielle Jones, staff therapist for the Counseling Center and member of SU's Sexual & Relationship Violence Response Team for their November meeting. Jones joined the counseling staff in August 2018 as part of the Invest Syracuse initiative to expand mental health services at Syracuse University. WiSE invited Jones to share strategies for stress management and acquaint students with the resources the counseling center offers for students of color, including group therapy sessions for both undergraduate and graduate students. Jones' areas of therapeutic concern are identity development, race and gender-based violence, anxiety and depression, trauma recovery, and the transmission of intergenerational trauma.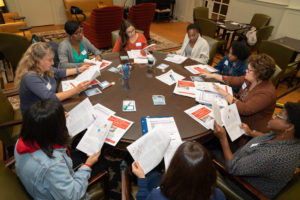 Jones started off by creating a safe space for attendees to de-stress and re-focus on their academic success. Some of the topics covered during the discussion included study habits, creating positive hobbies, and friendships. The safe-space environment that Jones facilitated allowed students to connect and address the challenges they face as women of color in the STEM disciplines.
Students left with a small packet of self-care tips and contact information for the Counseling Center. In evaluations, many participants called the event useful and expressed the need for more safe spaces of this type. This session bolstered a sense of belonging among the gathered women of color and provided resources to encourage their persistence in their academic programs.
WiSE Women of Color in STEM meets monthly in the Noble Room of Hendricks Chapel. Dinner is provided. Please contact suwise@syr.edu for more information and upcoming meeting dates. The WiSE website provides an overview of the program and its goals http://suwise.syr.edu/.