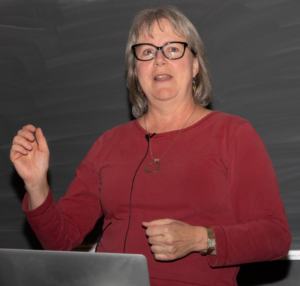 During the fall of 2019, the Department of Earth and Sciences submitted an application seeking funding to support inclusion and participation of distinguished women scientists in the department's Nelson Lecture Series thus providing more diverse role models for students. Through the Women Scholars Co-Sponsorship grant, WiSE was able to help support the lecture series, specifically the Holmes Lecture and keynote lecturer Dr. Roberta Rudnick.
The Women Scholars Co-Sponsorship grants help in facilitating the ability of SU STEM departments to bring women speakers to campus for department seminars, colloquium, conferences, etc. The purpose of the co-sponsorship funds is to encourage departments to invite more women and people of color to campus to serve as role models for students in the STEM disciplines, demonstrating that diversity drives innovation and that SU is an institution that values inclusive excellence. In this case, WiSE funding was used to engage seven women scholars for weekly seminars including the Holmes Lecture.
On March 21, 2019, the annual Holmes Lecture, featured Dr. Rudnick. Dr. Rudnick, a professor at the University of California Santa Barbara, is well-known for being the world's leading expert on Earth's lower crust. After receiving her Ph.D. from The Research School of Earth Sciences, Australian National University, in Canberra, Australia, Dr. Rudnick has gone on to win most of the awards offered in the geosciences.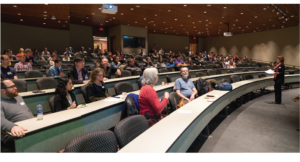 Dr. Rudnick is the first woman keynote speaker to host the Holmes Lecture in over 19 years. Professor Linda C. Ivany, the seminar coordinator, said: "not only are there more women entering the professoriate in earth sciences, but their work is being more widely recognized." With more than 18 years at Syracuse University, Professor Ivany has long supported women in STEM and WiSE often taking the initiative to promote women scholars. She succeeded admirably this year!
During her visit, Dr. Rudnick met with students, faculty members, and fellow geologists, from Earth Sciences. The lecture was well received and labeled remarkable.