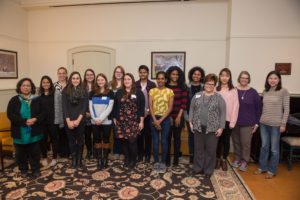 Program Goals for WiSE Future Professionals Program:
Women in Science and Engineering Future Professionals Program (WiSE-FPP) is a two-year professional development and academic support program that encourages and supports women pursuing careers in the sciences, mathematics, and engineering to persist in their degree program at Syracuse University and to thrive professionally. WiSE-FPP facilitates masters and doctoral student career development, planning, and preparation, as well as addresses academic and career resilience, productivity, and key success factors of professional women.
Objectives:
Provide mentoring through opportunities to connect with and learn from women faculty and industry professionals; to build relationships with peers across the various STEM disciplines; and to interact with guest lecturers and industry leaders in STEM who visit Syracuse University throughout the academic year.
Facilitate professional development and academic support through workshops, panel discussions, and presentations on topics such as strategies for navigating graduate studies; preparing a professional portfolio of materials designed for the job search process; and negotiating on the job market and in the workplace.
Empower clear and accessible science communication through programs designed to improve writing skills, speak with confidence, present effectively, and create one's own professional public presence.
Inform and equip associates regarding the variety of challenges specific to women in STEM fields with particular attention to work/life balance, dual career concerns, and the ways in which gender emerges as an issue in the workplace.
Participants:
Faculty nominate prospective associates at the beginning of their second year of their academic program or in the fall of any year afterwards. Faculty may also nominate master's students who are likely to matriculate to the Ph.D. Faculty letters of recommendation should address the caliber of the student's research and coursework, suitability for the program, and ability to attend at least five designated for-credit events over the course of the academic year.
Applications:
Associates must be nominated by their faculty advisor or another mentor. Calls for nominations are issued to faculty each year before the beginning of the fall semester. Students and faculty may contact WiSE Program Director, Sharon Alestalo, for further information.
Background:
WiSE began as a pilot program in 2007–2008 sponsored by a partnership formed between the WiSE, the Graduate School, and the Colleges of Engineering & Computer Science and Arts & Sciences. WiSE-FPP is designed to be collaborative, interdisciplinary, and self-directed, with WiSE-FPP participants, called Associates, taking a proactive role in designing the terms for their own academic and professional success. WiSE-FPP is in its 11th year of operation.  This interdisciplinary program has served 209 graduate women in STEM from 17 different departments across the SU campus.  SU STEM faculty have been deeply involved in the nomination of Associates with over 112 different SU faculty and 4 ESF faculty supporting the excellence and persistence of women graduate students in STEM. WiSE-FPP supports acclimation to professional and career planning expectations in the USA for international women doctoral students in STEM. On average 47% of our cohorts are international students.
Women In Science and Engineering Future Professionals Program (WiSE-FPP) Reflects:
The different disciplines of its members across the sciences, mathematics, and engineering
The different career goals that participating graduate students pursue in academia, organizations, and industry
The unique needs of women