Norma Slepecky Memorial Lecture & Undergraduate Research Prize Award Ceremony with Dr. Kelly Benoit-Bird
Dr. Kelly Benoit-Bird Senior Scientist at the Monterey Bay Aquarium Research Institute will be giving this year's lecture on Resolving the Food Paradox in the Sea.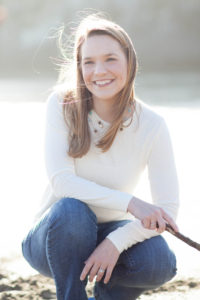 Abstract: The average concentrations of biota in the ocean are generally low, a critical problem for ocean consumers. When we examine the biology with new tools guided by the predators themselves, we find that instead of being relatively devoid of life, the ocean is peppered with narrow hot-spots of activity. From the surface ocean to the deep sea and animals ranging from plankton and fish to squid and whales, small patches of plenty have impacts on ecosystems disproportionate to their contribution to the total biomass. These small aggregations provide the key to solving experimentally demonstrated feeding paradoxes as well providing a mechanism for evolution in an isotropic environment where there are no obvious barriers to gene flow, Hutchinson's "Paradox of Plankton."
Bio: Dr. Kelly Benoit-Bird is a Senior Scientist at the Monterey Bay Aquarium Research Institute. Benoit-Bird received a B.S. in Aquatic Ecology from Brown University and a Ph.D. in Zoology from the University of Hawaii at Manoa. She completed a Post-Doctoral Fellowship at the Hawaii Institute of Marine Biology before joining the faculty of Oregon State University where she maintains a courtesy appointment. Kelly is the recipient of a MacArthur Fellowship, a Fellow of the Acoustical Society of America, and an IEEE Oceanic Engineering Society Distinguished Lecturer. Her research explores the ecological role of spatial and temporal dynamics in pelagic marine ecosystems from the surface to the deep sea. Her collaborative, interdisciplinary approach to understanding ocean ecosystems combines acoustic technologies with other tools including optical sampling, animal tagging, and behavioral modeling. Benoit-Bird's work is changing our understanding of how ocean animals including zooplankton, fish, squid, seabirds, and marine mammals make their living.
Day of Details
Location: Grant Auditorium, 3rd floor of White Hall at Falk College complex. Street address 150 Crouse Dr., Syracuse, NY 13244-1030
Date: Monday, April 22, 2019
Time: 3:00 p.m. – 5:00 p.m.
There will be a brief open reception following the lecture and ceremony.
The reception will be held in White Hall, Room 366 which is off the rotunda outside Grant Auditorium.
The awards ceremony will be at 3:00 p.m. followed by the Memorial Lecture.
The event is free to the public.
Parking is available to the public at Irving Parking Garage. There is a fee of $4; please inform the parking attendant that you are attending the Norma Slepecky Lecture.
Sponsored by Women in Science & Engineering and Biology